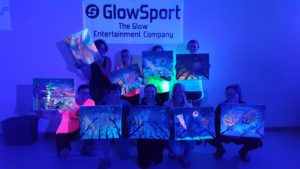 Paint Night
August 25, 2017 – 6:30 PM
Join us for the second summer edition of Glow Paint Night at the GlowSport Events Center! Allow our professional instructor to guide you in making a masterpiece like a true Vincent Van Glow. Doors open at 6:30pm with the painting to start at 7:00pm. Indulge in the most elaborate charcuterie starting at 8:00pm with upbeat tunes filling the room. Paint Night will never be the same once you've come and glowed!
[[[["field1","contains"],["field2","contains"],["field3","contains"]],[["show_fields","field7"],["redirect_to",null,"https:\/\/www.paypal.com\/cgi-bin\/webscr?hosted_button_id=LXJAH2NZUZASE&cmd=_s-xclick"]],"and"]]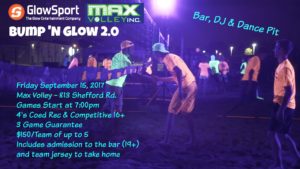 Bump N' Glow II
September 15, 2017 – 7:00 PM to 2:00 AM
Last year GlowSport and Max Volley teamed up for the most incredible beach volleyball tournament EVER and this year we're ending the season with the second annual Bump 'N Glow Beach Volleyball Tournament!
Join us as the sun sets Friday September 8  at Max Volley (813 Shefford Rd) with your competitive or recreational team of up to 5 players for this coed tournament of 4's. All teams are guaranteed 3 games, players take home their glowing authentic dry-fit style GlowSport team jerseys, admission to the bar included and a free water for each participant. You must have one girl on the court at all times. Spectators welcome!
$150.00 per team of up to 5 players
Games start at 7:00 PM
Must be 16+ to participate (Minors must have an adult sign the waiver upon arrival)
Competitive or recreational divisions
[[[["field1","contains"],["field2","contains"],["field3","contains"],["field11","contains"],["field10","contains"],["field4","contains"]],[["show_fields","field7"],["redirect_to",null,"https:\/\/www.paypal.com\/cgi-bin\/webscr?hosted_button_id=WQCEJNLFFLDYY&cmd=_s-xclick"]],"and"]]