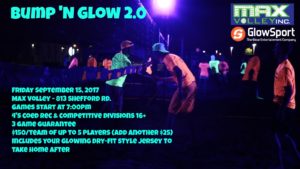 Bump N' Glow II
September 15, 2017 – 7:00 PM to 2:00 AM
Last year GlowSport and MaxVolley teamed up for the most incredible beach volleyball tournament EVER…and this year IT'S BACK!
Join us as the sun sets September 15 with your competitive or recreational team of up to 5 players (aged 16+) for this coed tournament of 4's. All teams are guaranteed 3 games and each team will be supplied with authentic dry-fit style GlowSport jerseys to wear for the tournament and take home after. Spectators Welcome!
Games start at 7:00pm and run till 1:00am-2:00am

DJ on site all evening

BBQ on site (All Max Volley summer players get in on this for free)

Bring water (water will also be available for purchase on site)

One girl on the court at all times

Prize to be announced for the winning team


All minors (16+) participating must show up with an adult to check in

$150 per team of up to 5, add a player for $25.
[[[["field1","contains"],["field2","contains"],["field3","contains"],["field11","contains"],["field10","contains"],["field4","contains"]],[["show_fields","field7"],["redirect_to",null,"https:\/\/www.paypal.com\/cgi-bin\/webscr?hosted_button_id=WQCEJNLFFLDYY&cmd=_s-xclick"]],"and"]]